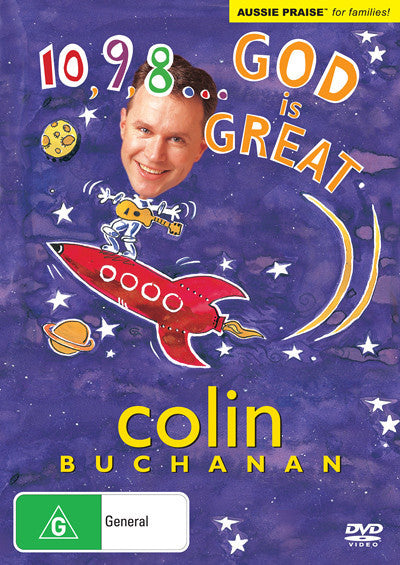 10,9,8... God Is Great DVD, Digital Download DVD and Individual Clips
Select product format:
Also available: 10,9,8... God Is Great Album
---
3...2...1.. BLAST OFF! Come on an adventure with Colin to discover more about our great great God.  All the energy and fun of Colin's hit Aussie Praise for families!  CD..10,9,8 God is Great is captured as we race across space for the lost spotty message.  Dance with a gorilla band in the jungle, boldly wrestle an inflatable crocodile and meet some of Colin's fairytale friends.
With a heart for teaching bible truths, a whole family of special guests and a couple of trademark memory verses thrown in for good measure.  10,9,8 ..God is Great is sure to have the whole family singing and dancing along as they learn with Colin about the King of All!
DVD: Multi region format (which means DVD is compatible all around the world)
Digital Download: This is in MOV format which is compatible with IPADs, Laptops and Computers.  
This product is now available in individual clips.
| | |
| --- | --- |
| DVD Tracklist |   |
| 1.  | 11. Ephesians 4:32 |
| 2. 10,9,8...GOD IS GREAT | 12.  James 4:78 |
| 3. Who's the King Of The Jungle? | 13. James 4:8 |
| 4. The Mystery Of the Lost Spotty Message | 14. Bonus 'Behind The Scenes' |
| 5. God Is Everywhere | |
| 6. He's Got Australia In his hands | Footage featuring excerpts from songs... |
| 7. People Change (But God Don't Change) | *The Lord Don't Change at All  |
| 8. Jesus Is No Fairytale | *God's Love Is Strong Love |
| 9. The Big Story of The Bible / God Our Father | *The Lord Is King |
| 10. The Crocodile Song | |