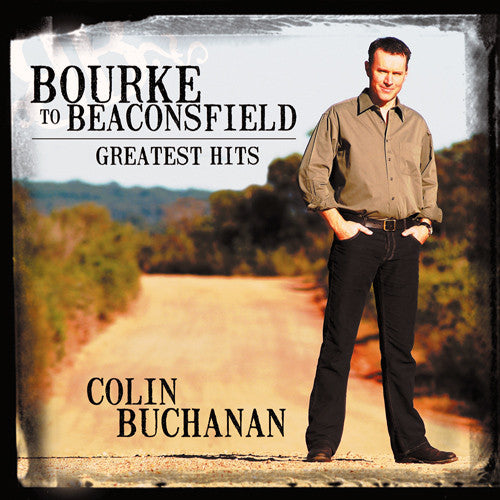 Bourke To Beaconsfield: Greatest Hits CD and MP3 Album
Select Album format:
---
Available as a CD album, complete MP3 album or choose from individual MP3 tracks.  
---
15 years in the making, Bourke To Beaconsfield - Greatest Hits is a collection of the singles, Golden Guitar award winners and stand-outs compiled from Colin's five country albums - plus a couple of extras!

From Colin's award-winning debut, Galahs In The Gidgee, through nearly two decades of authentic, heartfelt, vivid songs, this is a collection for those who have been there all the way and those who are new to Colin's country career.

Bourke to Beaconsfield - Greatest Hits is part travelogue, part journal, part portrait. Songs like North Bourke Bridge and Edge of the Kimberley are weather-worn landmarks that capture and celebrate the expanse of the outback. She Waits and A Drover's Wife are skillfully crafted vignettes set amidst the corrugated iron main street verandahs of a small bush town. House No163 has the breadth of high country while resonating with an intimate, tender story of enduring sadness. These are songs that go wide and go deep - songs that represent the career highlights from one of Australia's finest songwriters.

The CD includes two new studio recordings of songs that carved a unique place in recent history - Beaconsfield (about the dramatic Tasmanian mine rescue) and the Steve Irwin tribute, Goodbye Crocodile Hunter. Both tunes captured a spirit that resonated across Australia and across the world. It's proof that when it comes to great songs, there's still plenty to look forward to from Colin.

Embark on a captivating journey through 21 stunning songs: Colin Buchanan's Greatest Hits, Bourke to Beaconsfield.
$2.00

$2.00

$2.00

$2.00

$2.00

$2.00

$2.00

$2.00

$2.00

$2.00

$2.00

$2.00

$2.00

$2.00

$2.00

$2.00

$2.00

$2.00

$2.00

$2.00

$2.00
5. The Local District Show

11. Tough Job (Duet with Lee Kernaghan)

13. Edge of the Kimberley

17. The Bishop of Burrill

19. Missin' Slim (Duet with Lee Kernaghan)

21. Goodbye Crocodile Hunter (Tribute to Steve Irwin)