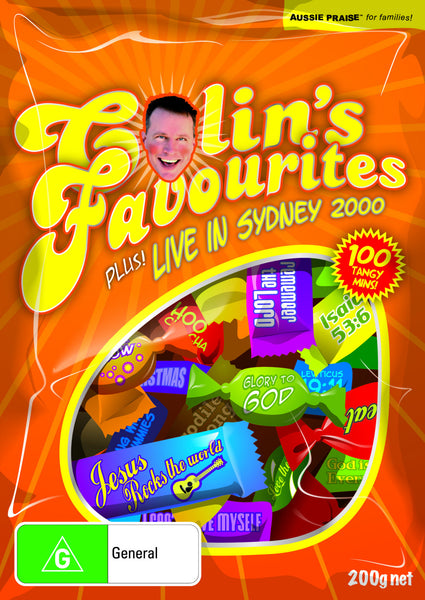 Colin's Favourites / Live in The Big Tent DVD, Digital Download DVD and Individual Clips
Select product format:
Also available: Colin's Favourites CD/MP3 album
---
Colin Buchanan's best selling DVD releases have brought Bible truths to the small screen in a truly unique way.  Whether he's signing in the Australian bush, discovering Queensland's spectacular Fraser Island, dressed as a caveman, riding his personal spaceman transportational device or tracking down a deadly inflatable crocodile, every Colin DVD is a creative adventure in discovering more of Jesus, his Word and His World.  Now Colin has hand-picked a fun-filled collection of crazy, colourful clips and opted them o this specially-priced DVD! Colin's Favourites DVD is the perfect tasty companion to Colin's Favourites CD. But wait there's more not only do you get Colin's Favourites you also get another title "Live In Sydney 2000"
DVD: Multi region format (which means DVD is compatible all around the world)
Digital Download: This is in MOV format which is compatible with IPADs, Laptops and Computers 
| | |
| --- | --- |
| Song Clips  |   |
| The One and Only God | Remember The Lord |
| The Old Black Crow | Ephesians 2:8-10 |
| Practise Being Godly | Leviticus 19:11 |
| I Can't Save Myself | 10,9,8…God Is Great |
| God Is Everywhere | Crocodile Song |
| Jesus Rocks The World | Hoo Cha Cha (John 14:6) |
| Love The Lord | The Chooky and Her Chickies |
| Merry Merry Christmas | Follow the Saviour |
| Nothing Takes God By Surprise | Practise Being Godly |
| Luke 9:23 | Jesus is the Mighty Mighty King |
| Revelations 3:20 | The Greatest Treasure |
| Remember The Lord | Proverbs 3:5-6 / John 14:1-4 |
| Isaiah 53:6 | You Can Tell the Lord That You Love Him |
| The One and Only God | Press on Mums |