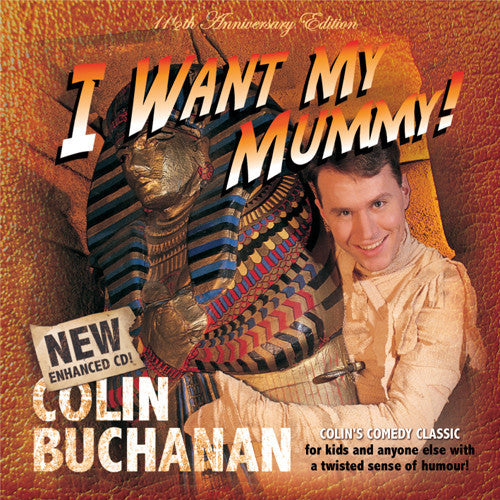 I Want My Mummy CD, MP3 Album, Individual songs, Backing Tracks, Sheet Music Available
Select Album format:
---
Available as a CD, complete MP3 album or choose from individual MP3 tracks, backing tracks and sheet music.
---
Colin's comedy kids classic. Silly songs for kids (and anyone else with a twisted sense of humor. Includes favourite's like "The Mummy Song (I Want My Mummy)," V-E-G-E-T-A-B-L-E-S", "The Rhyming Song" and not to forget "Please Mum". Fun for all the family. Reissue.
$2.00

$2.00

$2.00

$2.00

$2.00

$2.00

$2.00

$2.00

$2.00

$2.00

$2.00

$2.00

$2.00

$2.00

$2.00

$2.00

$2.00

$2.00

$2.00
I Want My Mummy Song Book

PDF

1. The Mummy Song (The Egyptian Trilogy, Part 1)

PDF

2. It's Raining At School Today

PDF

PDF

PDF

5. Hieroglyphics (The Egyptian Trilogy, Part 2)

PDF

PDF

PDF

8. Pharoah, Pharoah (The Egyptian Trilogy, Part 3)

PDF

9. Dem Doggies Don't Care

PDF

11. 1, 2, 3, 4, 5, 6, 7, 8, 9, 10

PDF

PDF

13. I Love To Toddle By The River

PDF

14. My Dad's Better Than Your Dad (Coz He's Got A Mobile Phone)

PDF

15. The Ballad Of Timothy Beggs

PDF

18. For The Children's Sake

PDF

19. Did You See What Dyna Saw? (Bonus Track)

PDF
1. The Mummy Song (The Egyptian Trilogy, Part 1)

2. It's Raining At School Today

5. Hieroglyphics (The Egyptian Trilogy, Part 2)

8. Pharoah, Pharoah (The Egyptian Trilogy, Part 3)

9. Dem Doggies Don't Care

11. 1, 2, 3, 4, 5, 6, 7, 8, 9, 10

13. I Love To Toddle By The River

14. My Dad's Better Than Your Dad (Coz He's Got A Mobile Phone)

15. The Ballad Of Timothy Beggs

18. For The Children's Sake

19. Did You See What Dyna Saw? (Bonus Track)