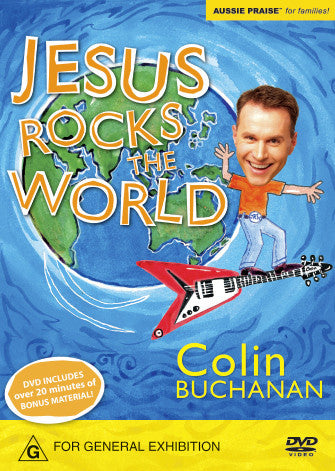 Jesus Rocks The World DVD, Digital Download DVD and Individual Clips
Select product format:
Also available: Jesus Rocks The World CD, MP3 Album, Individual songs, Backing Tracks and Sheet Music
---
Colin's "Jesus Rocks The World" has become an instant favourite across Australia. Now this amazing album explodes onto DVD and video with all the colour, energy and fun that made "10.9.8...God Is Great" a hit with kids of all ages. With an uncompromising heart for sharing Christian truth, Colin bounces, dances, and rocks his way through a new bunch of catchy memory verses and songs. With the help of Junkyard Jim, Fisherman Hamish McGibb, Ug the Caveman and a host of other pals, Colin teaches that lasting love, hope and glory are found in the sovereign Jesus alone. 
DVD Bonus features include "Behind the Scenes", "Dreaming Up The Video", a special "On the Road" video diary - plus a surprise or two!
DVD: Multi region format (which means DVD is compatible all around the world)
Digital Download: This is in MOV format which is compatible with IPADs, Laptops and Computers    
| | |
| --- | --- |
| | Things of The Lord |
| | |
| Jesus Rocks The World | You Were Bought (1 Cor 6:19+20) |
| | Hasta la Vista (1 Thess 5:14-15) |
| Love the Lord (Hey Hey) | Behind the Scenes |
| | |
| Hoo Cha Cha (John 14:6) | |
| | |
| Reel 'Em In | 'On The road' |
| Out Of Tune With God | 1. Melbourne |
| Jesus Saves | 2. Longreach |
| | 3. Queensland |
| Be Strong & Courageous | 4. Nhulunbuy (Gove), NT |
| The Chooky & her Chickies | 5. Outtakes and Bloopers |
| Let Him Who Boast | 6. Dreaming Up The Video |
| (1 Cor 1:30+31) | |