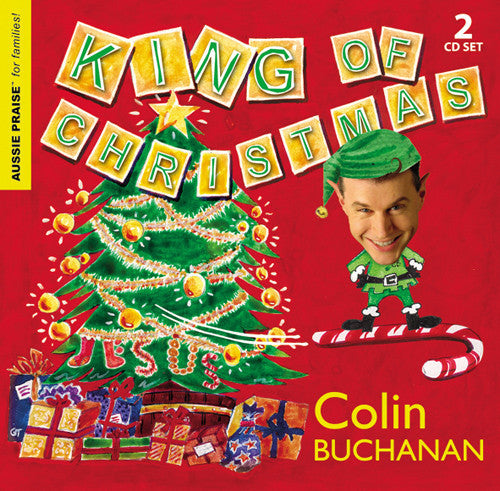 King Of Christmas CD, MP3 Album, Individual songs, Backing Tracks, Sheet Music Available
Select Album format:
---
Available as a CD album, complete MP3 album or choose from individual MP3 tracks, including backing tracks and sheet music. 
Also available: King Of Christmas DVD

---
Get ready, get set and GO! Here comes Colin's amazing 2CD Christmas album - King of Christmas! Colin follows up his best-selling "Jesus Rocks The World" with this rip-roaring collection of new songs celebrating the joy and wonder of the birth of God's own Son, King Jesus.
With the songs like the uplifting "Happy Happy Day", the rocking "Merry Merry Christmas", the funky techno "Glory to God in the Highest" and the rumpty tumpty "The Greatest Christmas Gift" (featuring guest vocalist and ventriloquist puppet, Martin Clifford), Colin retells the story of the first Christmas with biblical faithfulness and an irrepressible sense of fun.
"King of Christmas" is a Chrissy album like no other - sure to become a year-round family favourite across Australia!
$2.00

$2.00

$2.00

$2.00

$2.00

$2.00

$2.00

$2.00

$2.00

$2.00

$2.00

$2.00

$2.00

$2.00

$2.00

$2.00

$2.00

$2.00

$2.00

$2.00

$2.00

$2.00

$2.00

$2.00
$2.00

$2.00

$2.00

$2.00

$2.00

$2.00

$2.00

$2.00

$2.00

$2.00

$2.00

$2.00
King of Christmas Songbook

PDF

PDF

3. On That Very First Christmas

PDF

PDF

PDF

6. Go Tell It To Australia

PDF

PDF

9. Glory to God in the Highest

PDF

10. Good News (Sing for Joy)

PDF

PDF

12. The Greatest Christmas Gift

PDF

PDF

15. Will you Come to Jesus?

PDF

16. Who is He In Yonder Stall

PDF

17. Aussie Jingle Bells - No sheet music available

PDF

PDF

20. The Word Became Flesh

PDF

PDF

23. Jesus is No Fairytale

PDF

PDF
3. On That Very First Christmas

6. Go Tell It To Australia

9. Glory to God in the Highest

10. Good News (Sing for Joy)

12. The Greatest Christmas Gift

14. Jesus Saves! Jesus Saves!

15. Will you Come to Jesus?

16. Who is He In Yonder Stall

20. The Word Became Flesh

23. Jesus is No Fairytale