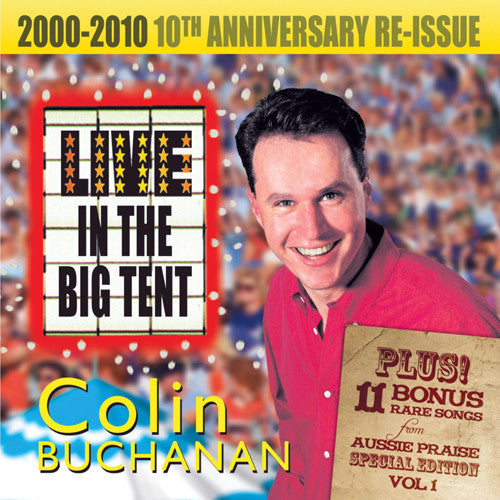 Live In The Big Tent (Special Edition) CD, MP3 Album, Individual songs, Sheet Music Available
Select Album format:
---
Available as a CD album, complete MP3 album or choose from individual MP3 tracks. 
---
2010 marked the 10th anniversary reissue of two unique - and previously out-of-print - Colin Buchanan albums, now together on one great disc.

Live In The Big Tent is Colin's only ever Live album, featuring favourites Follow the Saviour, The Greatest Treasure and The One and Only God. It's a Live singalong, Colin style!

The reissue also features rare songs from the limited-released Special Edition Vol 1. including outtakes from the Follow the Saviour and Real Hope sessions. The Live in the Big Tent Reissue is over an hour of biblical, spirited music for all the family from one of Australia's leading songwriters.
$2.00

$2.00

$2.00

$2.00

$2.00

$2.00

$2.00

$2.00

$2.00

$2.00

$2.00

$2.00

$2.00

$2.00

$2.00

$2.00

$2.00

$2.00

$2.00

$2.00

$2.00

$2.00

$2.00

$2.00

$2.00

$2.00

$2.00
Live In The Big Tent (Special Edition) Song Book

PDF

PDF

2. Nothing Takes God By Surprise

PDF

PDF

PDF

5. Jesus Is The Mighty Mighty King

PDF

PDF

7. He Died Upon The Cross

PDF

8. Here I Am (Revelation 3:20)

PDF

PDF

PDF

11. Memory Verse Medley (Proverbs 3:5-6, John 14:1-4, Isaiah 53:6)

PDF

12. You Can Tell The Lord That You Love Him

PDF

13. Made By God 4 God Alone

PDF

PDF

16. Praise Be To The Lord

PDF

PDF

18. He's Coming Back Again

PDF

PDF

20. What Ever Happens Stand Firm In The Gospel

PDF

PDF

PDF

PDF
2. Nothing Takes God By Surprise

5. Jesus Is The Mighty Mighty King

7. He Died Upon The Cross

8. Here I Am (Revelation 3:20)

11. Memory Verse Medley (Proverbs 3:5-6, John 14:1-4, Isaiah 53:6)

12. You Can Tell The Lord That You Love Him

13. Made By God 4 God Alone

16. Praise Be To The Lord

18. He's Coming Back Again

20. What Ever Happens Stand Firm In The Gospel

22. Come To Us O Blessed Saviour