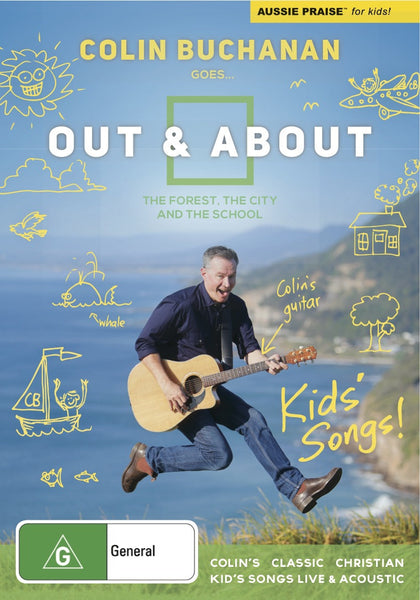 Out & About DVD, Digital Download DVD and Individual Clips
Select product format:
You're invited to join Colin on a DVD like no other as he grabs his guitar and goes Out & About! 
For over 20 years Colin's catchy Christian songs for kids have been sung far and wide as families go about their daily lives, fixing God's word in hearts and minds as they "walk by the way". (Deut 11:19)  
Out & About captures all-new, spontaneous acoustic versions of classic early Colin songs and memory verses - in the forest, on the train, in the city - even out on the ferry!  Sing along as Colin goes...Out & About! …including favourites Remember The Lord, Practise Being Godly, Follow The Saviour, Old Black Crow, Revelation 3:20….but be ready for a surprise or two along the way!
Songs
Remember The Lord
My God Is So Big
God's Map - The Bible
The Old Black Crow
Ephesians 2:8-10
Follow The Saviour
Proverbs 3:5-6
Revelation 3:20
The Best Book To Read
The Greatest Treasure
10,9,8... God Is Great
The Chooky And Her Chickies
John 1:1
Practise Being Godly
Are You Serving Cap'n Jesus
The One & Only God
Out & About  - The Extra Bits