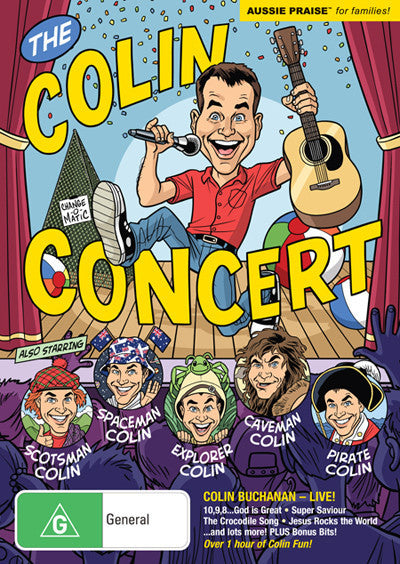 The Colin Concert DVD, Digital Download DVD and Individual Clips
Select product format:
It's the show that has taken Colin around Australia – and across the world – to perform his catchy, direct and biblically-faithful songs for tens of thousands. Join in the fun as kids and adults alike laugh, clap and sing along to Super Saviour, 10, 9, 8...God Is Great, The Chooky and Her Chickies, Isaiah 53:6 and a whole bunch of other favourites from Australia's #1 Children's Christian artist.

The Colin Concert features special appearances by Colin's familiar friends Caveman Colin, Scotsman Colin, Spaceman Colin, Explorer Colin and Pirate Colin – all compliments of the ridiculous Change-O-matic™!

Get ready to learn about our great God, His wonderful Word and his mighty Son, the Super Saviour, Jesus.
DVD: Multi region format (which means DVD is compatible all around the world)
Digital Download: This is in MOV format which is compatible with IPADs, Laptops and Computers    
| | |
| --- | --- |
| Song Clips |   |
| Jesus Number 1 | Are You Serving Cap'n Jesus |
| Follow The Saviour | Jesus is the Mighty Mighty King |
| On That Very First Christmas | God Is Everywhere |
| 10,9,8 God Is Great | Who's The King of the Jungle? |
| Crocodile Song | John 14:6 (Hoo Cha Cha) |
| Isaiah 53:6 (Baa Baa Doo Baa Baa) | The Lord Is King |
| They Chooky and her Chickies | Super Saviour |
| Jesus Rocks The World | Colin's Backstage bits |
| Colin Live in Ngukurr (Northern Territory,Australia) | |