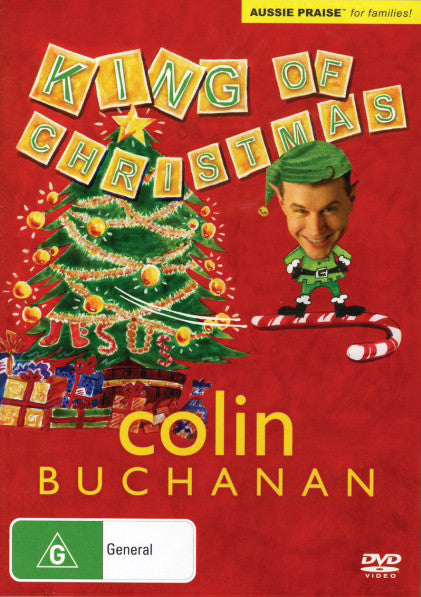 King Of Christmas DVD, Digital Download DVD and Individual Clips
Select product format:
Also available:
King Of Christmas Album

---
Colin Buchanan's landmark King of Christmas CD was a runaway Christmas success. Now Colin's joyful celebration of Jesus' birth comes to DVD, bulging with gift-wrapped, tinsel-trimmed energy and fun for the whole family! Join Colin as he gathers the Christmas clues as the CSI guy, raps his way through the story of Luke 2, brings the good news to the nation from the King of Christmas news desk and triumphs in the glittering grand final of Dancing with the Dummies!

Based solidly in the biblical account of the very first Christmas, Colin cooks, skates, clip-clops, sings and dings his way through his most ambitious DVD yet. It's an up-beat and unpredictable, hopeful and happy celebration of Jesus, the King of Christmas! Includes a bonus peek Behind the Scenes, out-takes and some tasty surprise Christmas goodies!
DVD: Multi region format (which means DVD is compatible all around the world)
Digital Download: This is in MOV format which is compatible with IPADs, Laptops and Computers    
| | |
| --- | --- |
| Song clips |   |
| Happy Happy Days | King of Christmas |
| Glory to God | Aussie Jingle Bells |
| Merry Merry Christmas | The Magi |
| Jesus Saves | Go Tell It To Australia |
| Angels Singin' Glory | On That Very First Christmas |