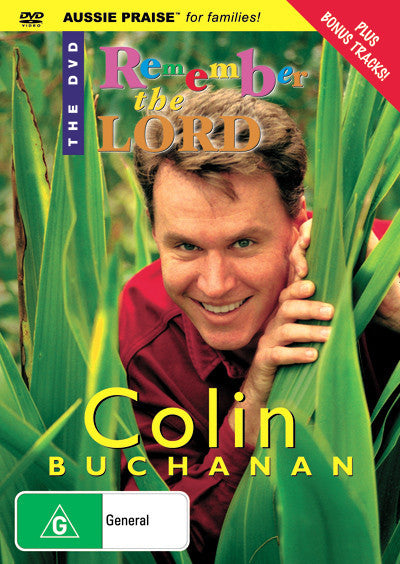 Remember The Lord DVD, Digital Download DVD and Individual Clips
Select product format:
Also available:
Remember The Lord CD, MP3 Album, Individual songs, Backing Tracks and Sheet Music
---
With their lively arrangements, biblical foundation and uniquely Australian attitude, Colin's Aussie Praise for families are dearly loved by children and adults alike, and widely-used across Australia in families, kids clubs and school evangelism.
Now songs from the first album in the series, "Remember The Lord" Comes to DVD.
Filmed in bushland locations and featuring Colin's trademark sense-of-humour (and some special quests!), "Remember The Lord - The DVD" will engage and entertain kids of all ages whilst teaching such truths as God's sovereignty, the centrality of the Bible and God's care for His children.
This landmark Aussie Christian DVD includes the favourites "Remember The Lord", "The One and Only God","Isaiah 53:6", "God's map-The Bible", "The Old Black Crow ', 'My God Is So Big ' and many more.
DVD: Multi region format (which means DVD is compatible all around the world)
Digital Download: This is in MOV format which is compatible with IPADs, Laptops and Computers    
| | |
| --- | --- |
| Song Clips |   |
| My God is So Big | All The Stars in the Outback Sky |
| The Old Black Crow | God Our Father |
| Jesus Loves The Little Children | God is Everywhere |
| Remember The Lord | God Is A Great Great God |
| Australia is an Island….. | God's Map - The Bible |
| What Can You See That God Made? | And God Said |
| Isaiah 53:6 | When I'm really naughty.. |
| The One and Only God | Bonus tracks - Leviticus 19:11, The Greatest Treasure, 10,9,8.. God is Great |